A group of talented women in Hillsboro is putting their knack for creativity into something good. They are quilting for a cause.
The women you see here are part of the Red Boot Retreat, which brings people together every few months to connect through crafts and other creative work. At one of their most recent retreats, members were hard at work making quilts and blankets for people and creatures in need.
That includes blankets to donate to animal shelters, hospitals and cancer charities.
Many members also make various items for Project Linus, a nonprofit organization that provides handmade blankets to sick and traumatized children across the country.
These photos are just some of the latest creations.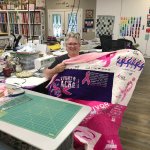 It can take days or weeks just to sew and sew an entire quilt, so a lot of love goes into her work.
Anyone in North Texas who wants to learn or get involved can join.