The exhibition has been extended until July 3.
Reviews and recommendations are unbiased and products are independently selected. Postmedia may earn an affiliate commission for purchases made through links on this page.
article content
The Immersive Frida Kahlo installation at Lighthouse Immersive Artspace on Yonge St. and Queen's Quay in Toronto is a clever escape from the sights and sounds (and stress) of the busy city.
The 40-minute show about the beloved 20th-century Mexican artist (1907-1954), known for her colorful and intimate self-portraits that blend surrealism and magical realism, includes such famous paintings as The Two Fridas, The Wounded Deer, and Diego and I. , which are intertwined with photographs, drawings and iconography.
Following in the footsteps of Immersive Van Gogh and Immersive Klimt, the show was put together by Italian digital artist Massimiliano Siccardi, in collaboration with composer Luca Longobardi, who created the score to accompany the animated projections, with a difference.
article content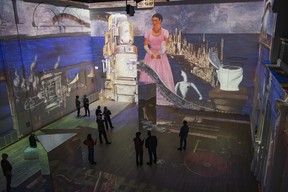 "Siccardi presents Kahlo's works in a very different format than he used when examining the works of Van Gogh and Klimt," said Lighthouse Immersive producer Corey Ross.
"He does not attempt to unify the many styles Kahlo used in her life, but instead presents them to us as a series of kinetic tableaux that may initially contradict each other, but eventually illuminate each other."
Featuring physically distanced seating areas plus a raised platform, the art installation was also done in cooperation with Kahlo's great-niece, Mara Kahlo, who is the president of the Kahlo Family Foundation.
The exhibit (tickets start at $39.99) has been extended through July 3 and there is also a gift shop.
jstevenson@postmedia.com